Bringing Educators and Parents Together!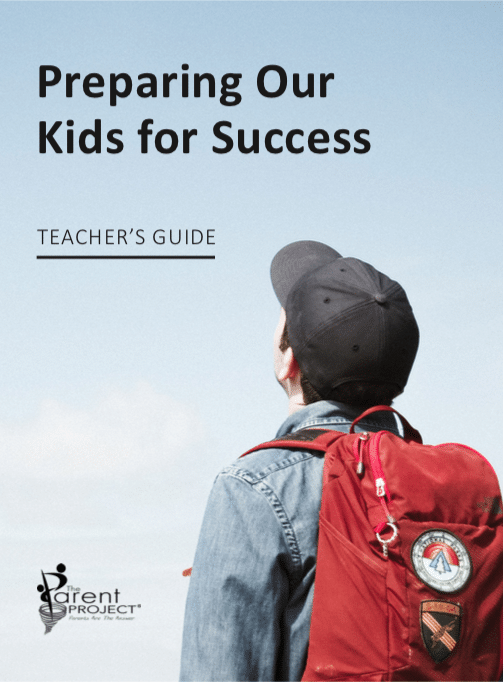 The Parent Project is proud to introduce Preparing Our Kids for Success. This 2.5-hour truancy intervention parent class is "Trauma Informed" and specifically designed to augment the S.A.R.B. and local Truancy Abatement efforts. Like all Parent Project programs, this class is based on cooperative learning norms and activity-based instruction. Using a behavioral model, Preparing Our Kids for Success promises to help parents:
Rekindle their dreams and wishes for their children;
Better understand and recognize the signs of trauma;
Recognize the necessity of creating structure for children;
Identify effective strategies for getting kids to school;
Discuss successful methods to increase home/school communication;
List strategies for improving school performance; and
Implement the Homework Assignment Sheet, or use an Online homework information system.
When you have parents and other caregivers at a S.A.R.B. or truancy abatement meeting, give them the tools they need to help their children succeed.
Why the Parent Project?
As an educator, no one is more in tune with the issues surrounding high-risk youth. Teen drug use, youth gangs, school violence, failing grades, truancy, and classroom discipline, are just a few of the problems teachers face every day.
Wouldn't it be nice if parents were involved? Over 35 years of experience taught us that virtually every parent deeply loves and cares about their children. But many are burned out and just don't know how to intervene when their children need them most. Only parents have the power to control the reinforcers and privileges children enjoy to motivate them to attend school and do their homework. Parent Project programs focus on helping parents understand how to use their powerful influence to help their children succeed.
The Parent Project promises to:
Reduce truancy
Increase both grades and graduation rates
Reduce behavior problems on campus
Decrease the stress on school staff
and Increase POSITIVE Parent Involvement
More Than Just a Parenting Program
The Parent Project addresses the specific issues both educators and parents face everyday. The curriculum offers practical, no-nonsense solutions to even the most destructive of adolescent behaviors. Let the Parent Project be the answer to increased Parent Involvement in your district.
Click here to learn more about the Parent Project Facilitator Training