Consider the Parent Project to support the families you serve.
Whether you work for a Community Based Organization or Christian Ministry, no one knows the needs of your community like you. Working directly with families, you see first hand the problems parents face raising children in today's complex society.
The Parent Project is so much more than just a parent-training program. Using the UCLA parent self-help support group model, the Parent Project offers parents ongoing practical and emotional support for as long as they need it. If your agency deals with truancy, dropouts, drug use, early teen sexuality, violence, youth gangs, or runaways, the Parent Project is the right call.
"I Call You Friend"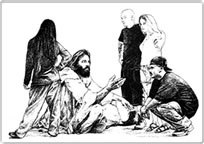 Artist John Whytock was commissioned by Parent Project®, Inc., to create an engaging rendering for the award winning parenting skills program Raising Difficult Children in a Difficult World. This 20" x 24" lithograph-quality black and white print is available for $89.95 (without frame).
Click Here to order your copy now.
Click here to learn more about the Parent Project Facilitator Training
"Every concept taught has a Biblical base. Christian parents frequently reported, 'We tried everything else--this really works! We communicate better as a couple as well as with our children. We know what to do and how to do it built on a foundation of love. And we found out we're not alone!'"
-David Overstreet, Assistant Coordinator for Field Ministries,
 National Network of Youth Ministries

-Francie Overstreet, Director of Children's Ministries,
 Emmanuel Faith Community Church, Escondido, CA